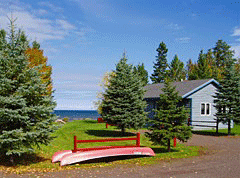 Mountain View Lodges offers contemporary, luxurious, two bedroom cabins with fully equipped kitchens, wood burning fireplaces and screened in porches. Scenically located on the shores of Lake Superior at the foothills of the Porcupine Mountains, Mountain View Lodges provides close proximity to down-hill and cross country skiing, snow mobile trails, miles of hiking trails, charter fishing, abundant waterfalls and many other four season activities. Our cabins are perfect for a get-away trip to fully enjoy nature in all of it's beauty. After a day of hiking or fishing, enjoy grilling out and having a campfire outside or romantic fire inside.
Mountain View Lodges
M-107
Silver City, MI 49953
906-885-5256
reservations@mtnviewlodges.com
Mountain View Lodges Website >>>
Comments Via Facebook
Additional Comments
No Comments »
No comments yet.
RSS feed for comments on this post. TrackBack URL
Leave a comment