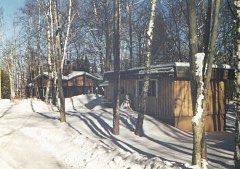 Peterson's Cottages is located in a quiet, wooded setting on the sandy shores of magnificent Lake Superior, just 15 minutes from the world-class Porcupine Mountain Wilderness State Park, and offers fully-equipped housekeeping cottages for the discriminating traveler. Snowmobile from your cottage to the excellent trails of the Western U.P., and/or experience the Alpine and Nordic ski areas of the Porkies- a winter wonderland awaits.
Peterson's Chalet Cottages
287 Lakeshore Road
Ontonagon, MI 49953
906-884-4230
petcot@up.net
Peterson's Chalet Cottages Website >>>
Comments Via Facebook
Additional Comments
No Comments »
No comments yet.
RSS feed for comments on this post. TrackBack URL
Leave a comment