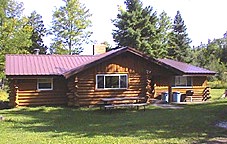 Rocky Shores is a newly refurbished log vacation home set well back from the road. Beautifully located on a large secluded lot on the shore of Lake Superior, it is less than one mile from Porcupine Mountain State Park. It features a beautiful fireplace in a large open-beam living room, which looks out onto nearly 200 feet of Lake Superior shore line. It has 3 bedrooms, 1-1/2 baths, and comfortable accommodations for up to 8 people. And it's also great for honeymooners.
Rocky Shores Vacation Home
M-107
Silver City, MI 49953
906-885-5412
info@rockyshoresup.com
Rocky Shores Vacation Home Website >>>
Comments Via Facebook
Additional Comments
No Comments »
No comments yet.
RSS feed for comments on this post. TrackBack URL
Leave a comment