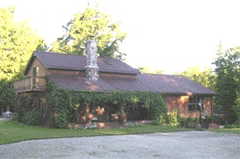 Two year-round rental homes in Silver City, Michigan, 1 mile and 5 miles the Porcupine Mountains Wilderness State Park. The Cabin Up North is a log home nestled on 3.5 acres on the pristine shoreline of Lake Superior with 1000 feet of private beach. This beautiful log cabin has 3 bedrooms and two baths and sleeps up to 8 guests. Two bedrooms are on the main level with a bath in between. One bedroom has a queen and a full sized bed, and the other bedroom has a full sized bed and access to the deck that overlooks Lake Superior. The Cottage Up North (1 mile east of the Porucpine Mountains State Park) is a three-bedroom cottage on the shores of Lake Superior . The Cottage Up North has 3 levels built into a hillside and overlooking Lake Superior. The main level contains a large bedroom with a wood burning fieldstone fireplace, full bathroom, and a large living room with satellite TV. It will comfortably sleep up to 10 guests, has 2,900 square feet of living area, and has 330′ of frontage on Lake Superior offering a spectacular view of the lake, the Porcupine Mountains, and outstanding sunsets.
A Cabin & A Cottage Up North
34464 Highway M-107 & 2651 Highway M-64
Silver City, MI 49953
906-885-5430
A Cabin & A Cottage Up North Website >>>
Comments Via Facebook
Additional Comments
No Comments »
No comments yet.
RSS feed for comments on this post. TrackBack URL
Leave a comment