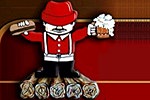 Spectacular food and spirits! Unique Menu – Featuring TC's Lumberjack Specialty Menu Items! Serving Breakfast, Lunch and Dinner! Large and small parties are welcome! Our atmosphere is cozy and rustic – echoing the beauty and charm of the Upper Peninsula of Michigan! We are situated directly at the Snowmobile Trail Head in Newberry Michigan for your winter activity convenience. In the Summer, we are centrally positioned in the middle of all the great attractions and activities.
Timber Charlie's Food and Spirits
110 Newberry Avenue
Newberry, MI 49686
906-293-3363
Visit Timber Charlie's Website >>>
Comments Via Facebook
Additional Comments
No Comments »
No comments yet.
RSS feed for comments on this post. TrackBack URL
Leave a comment