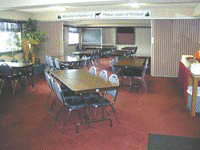 The Comfort Inn of Newberry is located three miles south of Newberry, Michigan. Our hotel comprises a two story 54 room property with queen rooms and 9 suites with whirlpool tubs. A large "hot tub" and sauna are located on site as well as laundry facilities, game area, ice, and vending machines. We feature a deluxe continental breakfast with ready to make waffles, bagels, toast, coffee, milk, cereals, juice, and more. We also have a large meeting room facilities for banquets, business meetings, etc.. And For Snowmobilers, Groomed Snowmobile Trail leaves directly from our Door.
Comfort Inn of Newberry
Jct. M-28 & M-123
Newberry, MI 49868
906-293-3218 or 888-300-SNOW
Visit Comfort Inn of Newberry Website >>>
Comments Via Facebook
Additional Comments
No Comments »
No comments yet.
RSS feed for comments on this post. TrackBack URL
Leave a comment