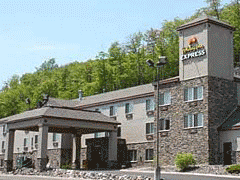 The Holiday Inn Express Hotel in Houghton features 61 beautifully decorated rooms, whirlpool spa suites, a fitness room, a business center and an executive meeting center. Our heated indoor pool and matching hot tub is a wonderful way to end a busy day, or to relax at any time. We provide the highest quality amenities, including a breakfast bar, at the smartest rates in town. We're just minutes from downtown Houghton and provide quick access whether you're heading north, south, west. Free high-speed wireless Internet (WiFi) in every room.
Holiday Inn Express – Houghton
1110 Century Way
Houghton, MI 49931
Reservations: 1 888 HOLIDAY (888 465 4329)
Front Desk: 1-906-482-1066
info@hiexpresshoughton.com
Holiday Inn Express – Houghton Website >>>
Comments Via Facebook
Additional Comments
No Comments »
No comments yet.
RSS feed for comments on this post. TrackBack URL
Leave a comment