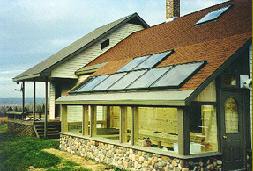 Large unique home sleeps 10 comfortably, pets OK. Hot tub, sauna, fireplace on 40 private acres only a half mile from US-41 and 12 miles south of Houghton. Premium satellite TV, stereo, dishwasher, everything you need except food. The house is nicely isolated on the property – you can't see any other houses but you do have a 10-mile view over the Keweenaw Ridge. The property also has a picnic area and beach near the spring-fed pond (with stocked trout). We are in the middle of the snow-rich Keweenaw Peninsula with centralized access to many cross-country ski trails, snowmobile trails, 3 downhill ski areas, the fun University town of Houghton, and the Ojibway casino. 2-night minimum.
Keweenaw Acres Vacation Home
Chassell, MI
406-459-9125
greg@ecologyusa.com
Keweenaw Acres Vacation Home Website >>>
Comments Via Facebook
Additional Comments
No Comments »
No comments yet.
RSS feed for comments on this post. TrackBack URL
Leave a comment