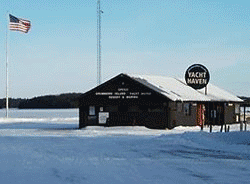 Yacht Haven's 3 and 4 bedroom cottages are nestled in the wooded shoreline with beautiful views of Potagannissing Bay and the islands surrounding the north shore of Drummond Island. Three and four bedroom cottages have native limestone fireplaces with wood and kindling at no charge. Our four bedroom cottage features 2 bathrooms and a hot tub on the deck overlooking Potagannissing Bay – relax as you enjoy either an early morning soak enjoying the sunrise, or an end-of-the-day wind down as the sun sets in the west – this deck provides an unbelievable panoramic view of the Bay. All cottages come equipped with satellite TV and pets are welcome. Phones are conveniently located. Fresh linens, towels and kitchen utensils provided.
Drummond Island Yacht Haven
33185 S. Water Street
Drummond Island, MI 49726
1-800-543-4743
Visit Drummond Island Yacht Haven Website >>>
Comments Via Facebook
Additional Comments
No Comments »
No comments yet.
RSS feed for comments on this post. TrackBack URL
Leave a comment