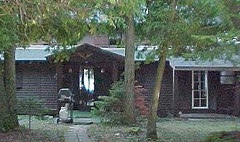 Our cottages sleep up to eight people. Each cottage has two or three bedrooms, a large living room and kitchen combination complete with cooking utensils, and a nice bathroom with shower. Fresh linens are furnished. The cottages are open in the winter months and are very near groomed trails. There is also dock space available if you want to bring your boat and a fish cleaning house for your convienience. A four bedroom vacation home called Southern Exposure is also available for rent just a short walk up Whitney Bay Road from Fort Drummond Marine. For the latest prices, call Fort Drummond Marine at (906) 493-5359 or (906) 493-5471.
Fort Drummond Marine and Resort
36183 Whitney Bay Rd
Drummond Island, MI 49726
(906)-493-5359 or 493-5471
blaine@sault.com
Visit Fort Drummond Marine and Resort Website >>>
Comments Via Facebook
Additional Comments
No Comments »
No comments yet.
RSS feed for comments on this post. TrackBack URL
Leave a comment