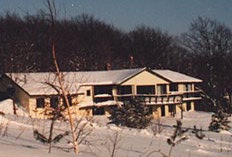 Wildernest is a premier chalet located in the Village of Indianhead Mountain. The chalet has two units which are surrounded by wooded lots with walking and snowmobile trails. Indianhead Ski Hill is about a block away with Blackjack and Big Powderhorn Mountain only 5-10 minutes away. Wildernest I, with it's open floor plan can accomodate 10 guests. Wildernest II, is a cozy, yet roomy lower unit with full views of the surrounding wooded area and can accomodate 6 people. Both units have their own private jacuzzi tub and fireplace.
Wildernest Chalet I & II
Indianhead Mountain Road
Wakefield, MI 49968
800-461-3426
Wildernest Chalet I & II Website >>>
Comments Via Facebook
Additional Comments
No Comments »
No comments yet.
RSS feed for comments on this post. TrackBack URL
Leave a comment