The Homestead – Meetings & Weddings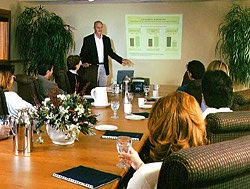 Meetings
Of Fish, Ponds and Meetings… You and we know the adage. We also know that small meetings get swallowed up when a large meeting lurks in the same pond. That's why we designed five small ponds and invite you to call one your own. We'll stock your pond with all the supplies and refreshments you'll need. So you'll enjoy quiet waters and won't get hooked with extra charges. When the work day's done, you can be in, along or above a really big pond, Lake Michigan – here or in the adjoining Sleeping Bear Dunes National Lakeshore. Then you can enjoy the catch at one of our three restaurants or two of our meeting facilities. To visit our ponds, from smallest to largest, click on the names which follow.
To contact Group Sales for more information, pricing or Request for Proposal, call 231.334.5300.
Visit the Meetings Page at The Homestead Website >>>>
Weddings
We've quietly created three stylish sites for weddings and receptions. In settings as fresh as a flower, they meld the mystique of Leelanau with the majesty of Lake Michigan. Each is uniquely beautiful. Each is equipped and staffed to provide exceptional service. Choose one and views will beguile, flavors will swirl and wines will sparkle. Laughter will meld with the sounds of the water. And the day, the unique day…the perfect day…the day of which you've dreamed, will be made. To visit our sites, from smallest to largest, click on the names below: