The Cove in Leland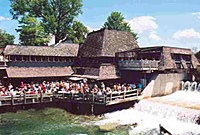 Historic Fishtown's only Lake Michigan waterfront restaurant, featuring freshwater fish, acclaimed seafood, chowder, great burgers, and the home of the "Chubby Mary." Lunch, dinner, cocktails daily, May through October.
The Cove is known for its unique setting in Leland's historic Fishtown, overlooking adjacent dam waterfalls, Lake Michigan & Manitou Islands. Outdoor dining provides beautiful views, ability to accommodate a private party with a banquet menu.
The Cove has been a prominent feature on the Leland River for generations of locals and visitors. Rick Wanroy, the proprietor of The Cove, acquired the restaurant in the early 80's. The Cove has been serving some of the finest food in Michigan ever since.
The Cove
111 River Street
Leland, MI 49654
231-256-9834
[gmap name='thecove' lat='45.023166′ lng='-85.761160′ zoom='10' width='580′ height='380′ desc='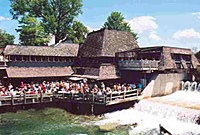 The Cove
111 River Street
Leland, MI 49654
231-256-9834
Visit Website']