Grand Hotel – Mackinac Island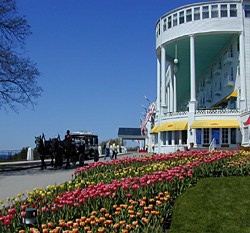 Grand Hotel is situated on the southwestern bluff of Mackinac Island overlooking the Straits of Mackinac and – in the distance – the Mackinac Bridge. From the front porch – the world's largest at 660 feet – guests can look down at the well-kept gardens and relax and enjoy the ambiance of "somewhere in time". It is no wonder that hollywood has chosen to come here more than once. Indeed, like a classic movie, Grand Hotel is larger that life. The Victorian elegance has been kept intact. Each room at Grand Hotel has been tastefully decorated by New York designer Carleton Varney with its own special character and style. Breakfast and dinner daily are included in the Grand Hotel room rate, and are served in the Main Dining Room. Visit their website and familiarize yourself with the elegance and the history of this magnificent hotel. A stay on Mackinac Island at Grand Hotel is a unique experience and guests inevitably depart to the mainland with memories that last a lifetime.
• Grand Hotel – Children's Programs
• Grand Hotel – Esther Williams Swimming Pool
• Front Porch of Grand Hotel
Become a fan of Grand Hotel on Facebook
http://www.facebook.com/grandhotel
Follow Grand Hotel on Twitter
http://www.twitter.com/GrandHotelMI
Grand Hotel named one the World's Best Resorts by Conde' Nast Traveler
Readers of Conde' Nast Traveler selected Grand Hotel as one of the World's Best Mainland U.S. Resorts in the magazine's Readers' Choice Travel Awards.
Grand Hotel
Mackinac Island, MI 49757
1-800-33-GRAND
<>
Grand Hotel Photo Gallery (Click on photos for slideshow view)


<>
SOME COMMENTS FROM THE MACKINAC ISLAND PAGE ON FACEBOOK – 6/17/10
Just this past May, taking advantage of the Pure Michigan special at the Grand and expecting a room overlooking the stables. Instead got a room overlooking the Lake with 2 comfy chairs in front of a picture window. I would have been happy to stay in that room in front of that window with THAT VIEW the whole vacation!
My husband and I visited the Grand two Labor Days ago. The buffet on Sunday was "out of this world". But the best part was we took a carriage ride there, and crossed the porch into the hotel. Once in the hotel, I asked an empoyee about paying to be on the porch. She graciously told me, "You are here now" not once, but twice, before I got the message. Thank you for the Grand staff for being SO grand!
My favorite memory happened several years ago. I was having high tea in the lobby of the Grand Hotel in my evening gown with the musicians playing the theme from "Somewhere in Time." I remember thinking "Pinch me! I must be dreaming!"
My favorite memory: My family joined me in the spring of 2007 – 08 during the policy conference. I taught the sunrise yoga program for the conference attendees on the porch of the Grand Hotel. The gorgeous view, immaculate landscaping, and the sound of morning birds provided a peaceful backdrop for our annual practice.
I worked at the Grand Hotel as a lifeguard and lived in the poolhouse during the summer of 1998. It was one of the best summers of my life. I met my husband at the Grand – he worked on the greens crew. And now we live happily ever after, watching Somewhere in Time on each wedding anniversary.
SOME MORE COMMENTS FROM THE MACKINAC ISLAND PAGE ON FACEBOOK – 5/19/09
One of the best vacations we had. We had a suite which was fantastic over looking the bridge, pool, and garden. Want to go back soon.
Spent Mother's Day weekend there and we will be back in 2 weeks. I love the High Tea, breakfast, friendly staff, beautiful view and seeing familar faces year after year in the shops, salon, staff. I also love eating at the Woods and Gate House. Best whitefish!!! and love their new menu.
Stayed there for the Win Some Women conference. We got to sleep in the Somewhere in Time suite! Super awesome and great food there!!
My three-day stay last week was wonderful… the stress of life melts away like ice sculptures in the sun.
A stay at Grand Hotel is always the highlight of the summer. It's wonderful. Mackinac Island is such a magical place.
Love it. Stayed there well over a dozen times. Never been disappointed. The ambiance that surrounds the grand, is simply GRAND. Dressing up for dinner is what makes it so unique (and for those of you who do not know, it is the only time you have to be dressed up). Most of us simple folks don't do that often enough. And believe it or not, most … people who stay at the grand are simple folks. Not stuffy or stuck up. Just looking for an "old" and "unique" place to get away. It's not the only great place on the island as we have stayed at several other B&B's, we even rented a home there last summer for a month. It's all good. The island has so many great places to explore. But the grand always lives up to it's name, GRAND.
Horseback riding, swimming, tennis, bike riding, movie watching, cards, dancing, dining, drinking, sitting on the worlds most beautiful porch, sight seeing at the fort, carriage ride, golf, duck pin bowling, ping pong, etc, etc, etc, one of the most beautiful places on earth!
My parents and I use to spend each summer month at the Grand Hotel. During the filming of Somewhere In Time, I was given a handful of quarters, and strict instructions to meet my parents at the dinner hall on time. The elevators took forever, so I decided to take the stairs down to the lower lobby to the game room. When I was descending the stairs at full speed, I came around a corner and BOOM! I ran smack dab into a man. As I was apologizing, he helped me pick up my quarters that had scattered everywhere. I stood up to thank the man, and I was thanking Christopher Reeve himself.
<>
Grand Hotel On Facebook
Below are the latest postings from Grand Hotel Page On Facebook.
<>
This message is only visible to admins.
Problem displaying Facebook posts.
PPCA Error:
Due to Facebook API changes it is no longer possible to display a feed from a Facebook Page you are not an admin of. The Facebook feed below is not using a valid Access Token for this Facebook page and so has stopped updating.
<>
Visit Grand Hotel Facebook Page >>>
<>
Grand Hotel – Photos via Instagram
The latest photos from the instagram account of Grand Hotel.
<>
Grand Hotel – Photos via Instagram
Here are the latest photos of Grand Hotel via instagram. If you have an instagram photo to share of your visit to Grand Hotel, choose "Grand Hotel" as your location and your photos will appear in the photo stream below.
<>
Grand Hotel – Photos via Instagram
Here are the latest photos of Grand Hotel via instagram. If you have an instagram photo to share of your visit to a Grand Hotel, tag it with #grandhotelmichigan and your photos will appear in the photo stream below.
<>
<>
<>