Fort Mackinac Tea Room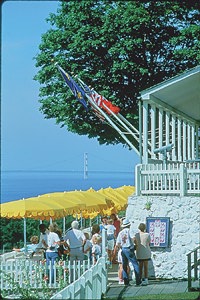 One of the most delightful and scenic settings on Mackinac Island to enjoy luncheon or a late afternoon snack. Tour this historic site and relax afterwards with a delicious meal and exceptional view of downtown Mackinac Island and the harbor. Admission to Fort Mackinac is required. A visit to Fort Mackinac includes a self-guided tour of the Fort, seeing 1780's soldiers demonstrate rifle firings and a cannon salute over the harbor. For more information about Fort Mackinac visit click here.
The Fort Mackinac Tea Room will open for the 2013 season on Tuesday, May 7th.
Hours of Operation:
Luncheon: 11:00 a.m. – 3:00 p.m.
Outdoor and indoor seating available.
There is tipping at Fort Mackinac Tea Room.
<>