Cottage Inn of Mackinac Island – Rooms With a View
The Garden Balcony Room (above left) is one of the most popular rooms at the Cottage Inn of Mackinac Island. You are treated to your own private balcony over looking Market Street where you can hear the clip-clop of passing horse carriages and see the historic buildings that line the street and get a glimpse of Marquette Park and Fort Mackinac in the distance.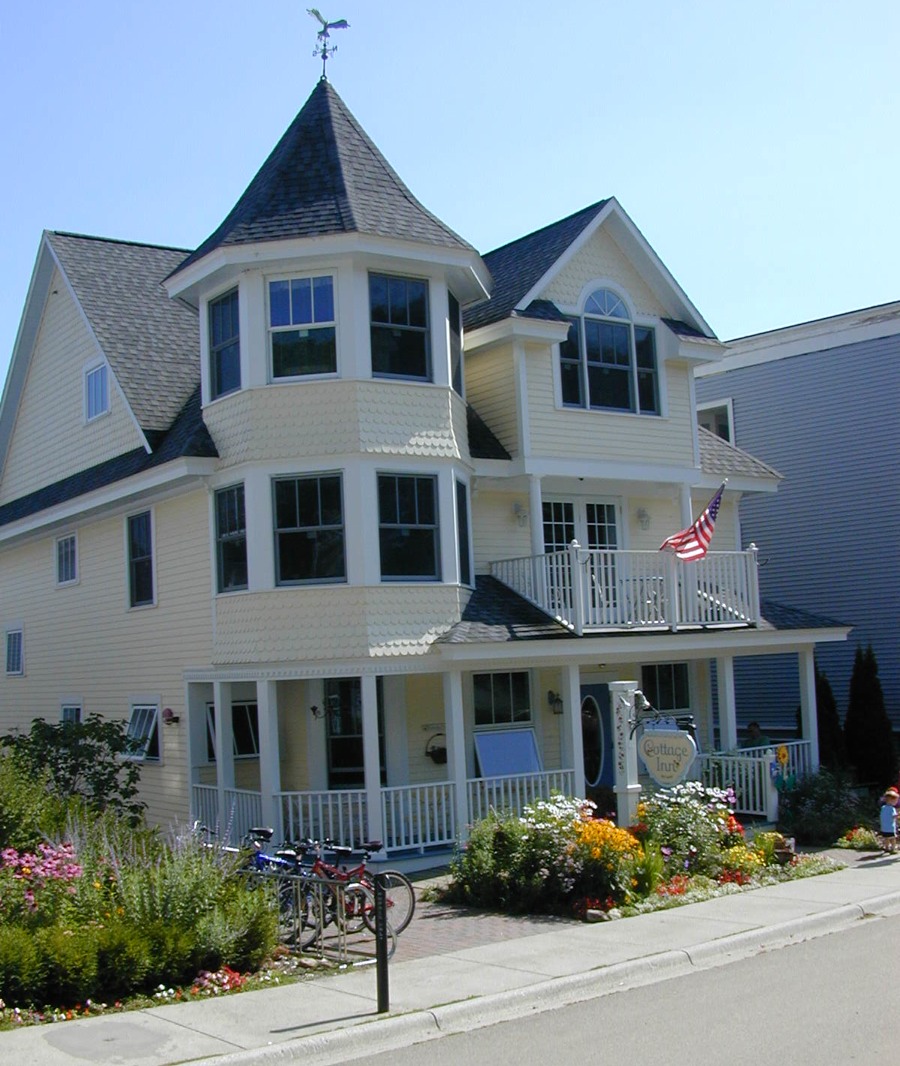 The Mackinac Suite (window view, above right) on the third floor also offers good views of Market Street and Fort Mackinac. This spacious three-room suite comfortably accommodates four people.
The Victorian Turret Room on the second floor also offers guests a charming view of Market Street, especially from the sitting area surrounded by the turret windows. This large, deluxe room comes with a queen size bed and a sofa with pullout queen size bed.
For more information on all of the rooms at the Cottage Inn please visit the accommodations page on their website.
The Cottage Inn Page on Travel Advisor is also a good resource to research your stay at the Cottage Inn.
<>
<>

Located on quiet Market Street, the Cottage Inn is just one block from the downtown area. Ferry Docks, Mackinac Island State Parks, historic Fort Mackinac and the Mackinac Island Marina are only a short stroll away . Featuring a large front porch for enjoying breakfast or just relaxing while taking in the clip clop of horse & buggies passing by. Deluxe rooms and suites with all of the modern amenities – Air Conditioning – Internet Access – Flat Screen TV's/DVD – Telephone – Afternoon Tea With Famous Mackinac Island Fudge, Peanut Brittle and Carmel Corn – Private In-Room Baths Enjoy a spectacular breakfast featuring a hot egg dish, fresh baked muffins, fresh fruit, hard boiled eggs, yogurt, bagels, english muffins, cereals, juice and great coffee.
Cottage Inn of Mackinac Island
P.O. Box 458
Mackinac Island, MI 49757
906-847-4000