Chippewa Hotel – Rooms with a View
The lake view suites at the Chippewa Hotel offer guests a front row seat to all the comings and goings in the waters around Mackinac Island (see photo above, left).
You can watch the ferries arrive and depart from the harbor below or keep track of freighters passing through the Straits of Mackinac in the distance. Catch the play of color in the sky and in the water at sunrise and during sunsets. Whether you are sitting in the living room of your suite or on your private balcony, you'll have one of the best seats in the house to the progress of the day on Mackinac Island.
Inside Tip: The most popular suites at the Chippewa Hotel are the corner suites on the third and fourth floor. Located on the east side of the hotel, the corner suites have two extra windows with views of Marquette Park and Fort Mackinac (see photo above, right).
For more information on all of the rooms at the Chippewa Hotel please visit the room and rates page on their website.
The Chippewa Hotel Page on Travel Advisor is also a good resource to research your stay at the Chippewa Hotel.
Visit Chippewa Hotel Website >>>>
Chippewa Hotel Photo Gallery
(Click Photos for Slide Show View)

<>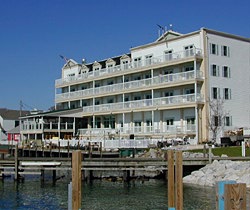 A stay at the Chippewa Hotel puts you right in the middle of all the charms of Mackinac Island. Choose a main street room and wake up to the clip-clop of the horse carriages passing along the street below. Stay in a Harbor View waterfront room or suite and enjoy the views of the harbor and the Straits of Mackinac from your balcony. Treat yourself to the Club Level Corner Suite or the Harbor View Corner Suite and you have views of the harbor, marina and Fort Mackinac from your room. You can completely immerse yourself in the life of Mackinac Island when you stay at the Chippewa.
Located at the eastern edge of downtown – just below historic Fort Mackinac – the Chippewa Hotel Waterfront offers a wide variety of rooms – from deluxe hotel rooms to one and two-bedroom suites with balconies. Guests can also relax on the scenic sun deck overlooking the harbor and enjoy the warm waters of the expansive hot tub.
You can have a casual breakfast, lunch or dinner at the famous Pink Pony Dining Room and Bar, where you can eat outside on the patio watch the ferries arrive and depart from the harbor. For those who want to burn the midnight oil, the Pink Pony Bar is famous for some of the best nightlife on Mackinac Island with live entertainment nightly during the main summer season.
Chippewa Hotel Waterfront
P.O. Box 250
Mackinac Island, MI 49757
1-800-241-3341
<>
Visit Chippewa Hotel Website >>>>
<>