Boxwood Coffeeshop & Cafe and To-Go – Mission Point Resort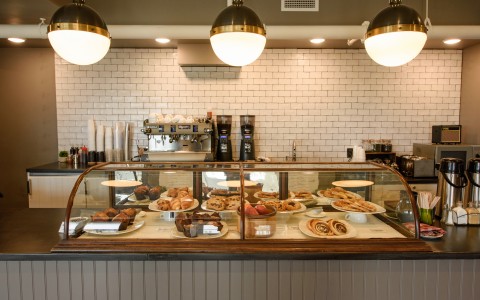 Boxwood Coffeeshop & Café is home to the best picnic provisions on Mackinac Island. Located just steps from M-185 and the Mission Point Resort Great Lawn, Boxwood is open daily from 7:00 a.m. – 10:00 p.m. and offers a variety of to-go items including specialty coffees, teas, beer and wine, snacks, ice cream, and hot and cold breakfast and lunch options.
Mission Point is also home to Strait UP Coffee, a small café located in the east lobby of the Straits Lodge. Similar to Boxwood Coffeeshop & Café, Strait UP Coffee is an ideal stop for Straits Lodge guests offering a variety of items including specialty coffees, teas, pop, beer & wine, snacks, and to-go breakfast & lunch options.
Lily's Lemonade at Mission Point Resort is a specialty lemonade stand located just off M-185 on the resort's street-level patio. Stop by to try a variety of unique and traditional lemonade blends while you enjoy Mission Point's easy side scenery.
<>
Visit Boxwood Coffeeshop & Cafe and To-Go – Mission Point Resort Website >>>>
<>