Big Buck Brewery and Steakhouse
At Big Buck Brewery & Steakhouse, we offer a casual family dining experience with quality food and award-winning brews.
Our menu has something for everyone. Start your meal off with a tasty appetizer, like the Buffalo Chicken Tenders or the Portabella Bruschetta.
In addition to our wide selection of premium steaks, our chefs offer a variety of chicken, seafood and pasta dishes. For lunch, try our famous Brewmaster Burger or the Venison Reuben. Complete your meal with one of our delectable desserts.
We also offer a complete "Little Buck Menu" and a new and improved game room for the kids and kids at heart, so bring the whole family!
Come and enjoy one of our award-winning, hand crafted brews! There are several varieties that are always on tap; however, be sure to ask your server about our Seasonal Brews. In addition to our outstanding handcrafted beers, we also offer a complete bar with a wide selection of wine and cocktails.
Big Buck Brewery & Steakhouse
550 South Wisconsin Avenue
Gaylord, MI 49735
989-732-5781
Visit Big Buck Brewery & Steakhouse Website >>>>

[gmap name='bigbuck' lat='45.022006′ lng='-84.683475′ zoom='12' desc='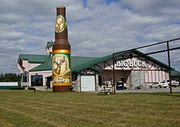 Big Buck Brewery & Steakhouse
550. S. Wisconsin Ave.
Gaylord, MI 49735
(989) 732-5781
Visit Website']