Bay View Bed and Breakfast – Mackinac Island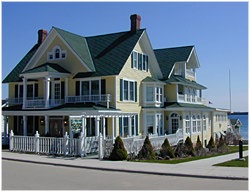 Built over a century ago in 1891, Bay View on Mackinac Island still celebrates her original family heritage in the Grand Victorian style that is truly Mackinac. Beautifully positioned on the bay, Bay View is the only B&B / Inn of her type and style resting on the water's edge. Each guest room will embrace you with its own unique seascape, while our second story sundeck boasts an incredible view of the straits of Mackinac. At Bay View, you will enjoy our hot, gourmet seated, breakfast on the veranda, the best homemade cookies served every afternoon, and a generous tast-tempting dessert each evening. And of course… "bottomless cups of our famous Bay View Blend Coffee"… all with our compliments. Bay View Bed & Breakfast creates the perfect setting for all your Mackinac Island memories; strolling the boardwalk, savoring our famous Mackinac Island fudge, shopping downtown, bicycling, golfing, swimming, horse-back riding, taking a carriage tour all over the island, or simply gazing at the Straits of Mackinac.
Bay View Bed & Breakfast
100 Huron Street
Mackinac Island, Michigan 49757
(906) 847-3295
Bay View Bed & Breakfast Website >>>
SOME COMMENTS FROM THE MACKINAC ISLAND PAGE ON FACEBOOK
That place is awesome. It smells like fresh baked cookies and has such a cozy feel. My parents and father-in-law stayed there during our wedding. It's also reasonably priced!
I stayed here. was wonderful. heard the clip clop of horses in the morning. and reallllly cool being on the island at night after the ferries all leave. went for a moonlit bike ride.
My brother and sister-in-law stayed here when they got married on the island in 2006. Awesome place. Highly recommend staying here.
We stayed there and loved it! Especially the on demand coffee!
I've stayed at Bayview a few times – and each time was wonderful. They were doing remodeling every time I went so now it must be awesome!
We stayed there for our 1st anniv back in 1996..it was so awesome. I remember waking up to the sounds of horses clip clopping down the road!